15 celebrity divers now down to 3 – Jake Canuso, Eddie 'The Eagle' Edwards and Linda Barker. It's the battle of the boards with them each doing a solo dive and a synchronized dive with the Olympian himself, Tom Daley. Linda looked spectacular in her pink bikini, the only woman in the final! she admitted I am really nervous, I really want to win€ in the training video we saw just before she dived "I'€™m doing this for the girls" she told Vernon, with this in mind her forward one and a half somersault of the 5m board was spot on. The judge's responses to her dive were opens the final in style€ was spot on€ €œthe boys have their work cut out€ with this said her total score was 26 and a half out of 30 which was rather good seeing as she was only on the 5m. With the pressure now on for Eddie and Jake to wow the judge'€™s and beat Linda's score they could only aim higher. With the trophy in his grasp Eddie €˜The Eagle Edwards took the 10m board for the forward two and a half somersaults, he came across as scared for this dive and we see why in training. Eddie landed a belly flop while attempting the two and a half somersaults, the other competitors looked on in horror as he sat face in hand on the side in pain. His words were €œI need to keep going €œthat was so painful€. His determination was clear he would succeed in this dive and to the audience and judge'€™s amazement he did! With the highest score to date on Splash 2013 30/30 was Eddie'€™s score and the judge'€s calling him €œunbelievable€ €œfantastic€ and telling him he had €œsmashed boundaries. Eddie laughed when Tom and Vernon said he should take up diving professionally after Splash but he admitted €œit's 100 times worse than skiing€. The Benidorm star Jake Canuso again followed Eddie'€™s footsteps to the 10m board doing a handstand somersault pike. We saw in training he really struggled with this dive, not because of the dive itself but the handstand, he had to master this move to get up to a level to compete with Eddie and Linda. He told Vernon €œI had a mental block where I just couldn't do the handstand for a few days; my hands also were swollen up€ As he came face to face with his enemy; the handstand, Jake took control and did the dive perfectly. Judge's gave him a 27.5 score saying he was €œgraceful€ €œfantastic entry€ €œvery impressive held it together. He laughed as he said to Vernon I'€™m used to doing comedy not drama.
With this now in the past they had to focus on their synchronized dive with Tom Daley. First up was Linda, both of them doing an inward dive tuck off the 10m board, the pressure was really on! The take-off was spot on however she did over rotate just as she hit the water. With a well done€™ from the judge's her score was 27.5 out of 30 making her achieve a total score of 54/60. Next were Eddie and Tom doing a 1 and a half somersault pike. The timing was spot on getting him a 29/30 getting 59/60 overall. Leon told Eddie that he wasn't far off Olympic standard, with Tom stating €œThe Eagle has landed€. Last but not least, Jake. He along with Tom on the 7.5m board doing the forward 1 and a half somersault pike. With the timing absolutely spot on, Jake could easily be mistaken for an older looking Tom Daley. With a judge'€™s score of 28/30 getting an overall of 55.5/60 Andy, Leon and Jo told Jake €œyou smashed it, spot on€ €œlooks like you have been doing this year'€™s not 8 weeks€ €œincredible, nailed it€. With this all over, divers set out to create a brilliant finale.
THE WINNER IS EDDIE THE EAGLE€™ EDWARDS! The eagle has landed himself the 2013 Splash trophy. With him saying "It's been fantastic,very painful, very difficult but I've loved every second" What an incredible 8 weeks this show has been! Let'€™s hope more celebrities step up to the mark next time on Splash. We all are thinking Cheryl Cole should do it with the impressive swan dive she did on The Voice last year. C€™mon Cheryl…We Wish!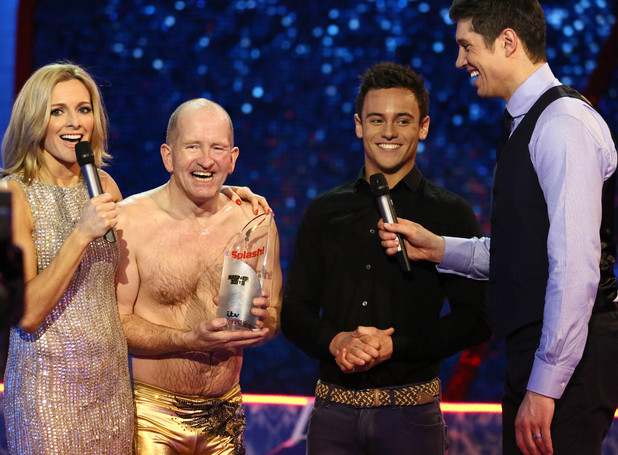 Video:
Written by Danielle Fagg.