JLS member Oritsé Williams and girlfriend AJ have scored the perfect score in dance show Stepping Out for the first time in the series.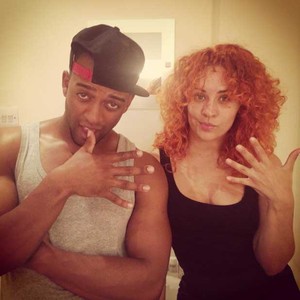 At this week's semi-final of the series, Oristé and AJ went all Bollywood and after a very tiring performance the judges were amazed and scored the couple an impressive 60/60 points! So shocked with the result, being the first in the series, they jumped up and down with joy at what they'd heard!
Next came wife swap where Oritsé was paired up with Vogue and AJ paired up with Lawrence, where all couples danced Jazz at the same time in a head-to-head. The judges were yet again impressed with them both and individually scored them each three ten's wow! The overall score then came and the duo received the dream score of 120 points. First in the series to get the perfect score as a couple, then to go further and get the perfect score on their own to combine a magical score is just amazing to see!
As Davina announced who would be going through to the Stepping Out Final next weekend, AJ and Oritsé found themselves sailing straight through with the top score from the judges and the most votes from the public.
Be sure to tune into the final next week to see if they can go all the way and be crowned winners of ITV's Stepping Out! Good Luck AJ and Oritsé!