Comedienne and all round funny-woman Miranda Hart has announced that she's releasing a comedy fitness DVD!
Miranda Hart is to bring her unique brand of comedy and tom-foolery to fitness, with the release of never-seen-before comedy and fitness DVD Miranda Hart's Maracattack, which is exclusive to DVD and Digital Download to Own. It's the first time the incredibly popular entertainer has issued a DVD and Digital only release!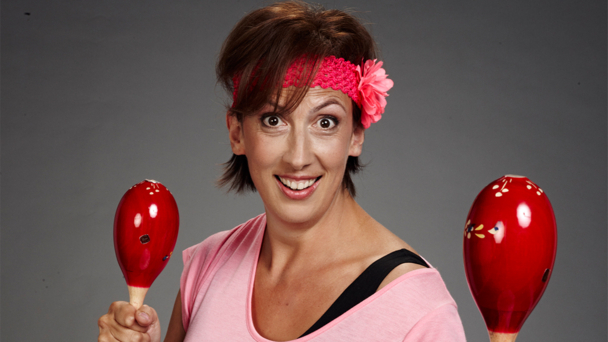 Miranda says "Maracattack is based on one key concept. Fun. For fitness should be fun. Bear with as I coin a compound word – Funness. You will want to exercise. It's about playing, not 'working out' and play helps your body, but also frees your mind. Without giving too much away, it involves maracas, classic pop tunes, and is as much fun as a riotous camp, cheesy disco. There is no need to dread the gym anymore."
As well as a workout, this DVD will include some comedy sketches with Miranda's pals Tom Ellis, Patricia Hodge and Sarah Hadland.  Miranda's co-host on the DVD is fitness expert Amelia Watts. The DVD includes a warm-up, 20-minute cardio session, a 5-minute high intensity cardio routine and 10-minute strength exercises for arms, core, legs and bums. During each workout Miranda and Amelia will work at different levels, so viewers can follow either depending on their own ability.
Fiona Eastwood, Director BBC Worldwide Consumer Products said "We are thrilled that Miranda has chosen to release her first comedy fitness DVD with us. This will be the perfect Christmas gift for Miranda's many fans, whilst also providing a great workout for those who have never considered using a keep-fit DVD before."
We can't wait for Miranda's fitness DVD! It's definitely one for the Christmas list! Are you going to be keeping fit this Christmas with Miranda? Let us know by dropping us a tweet or leaving a comment below! Don't forget to share!
Miranda Hart's Maracattack is exclusive to DVD and DTO and is released on 18th November 2013 RRP £19.99