As Aston, JB, Oritsé and Marvin are preparing to go on stage for the last time as JLS, there has been a newsletter email sent out to fans with messages from each of the boys.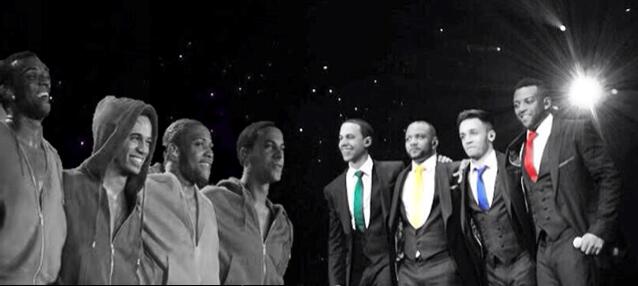 The emotional day has finally come where we have to say goodbye to JLS. Their tour is coming to an end this evening in London's O2 arena where they will sing to thousands of fans for one more time.
The email has been sent saying thank you and wishing each and every JLSter the best Christmas they can have. They may bring tears to your eyes so be warned.. here they are:
The messages started off with your boy in blue Aston:
Merry Christmas everyone!
Sending so much love and good vibes over this Christmas period! The journey we've all shared together has been amazing and I thank you all so much for helping us achieve our dream! Don't cry because it's over, smile because it happened!
All the love in the world and I'll see you in 2014…
Ax
Next came your boy in red Oritsé:
Dear JLSters.
I'm writing to wish you a very Merry Xmas and hope that you enjoy spending time with your loved ones at this time of year. I hope you all aim high for 2014, I won't say goodbye because I know I'll see you all again!
Love U All!!!
Ori x
Your boy in green Marvin's message is next:
To all of our amazing JLSters!
Sending you lots of Christmas love! What an amazing year we've had. Thank you for all of your support this year and of course the past 6 years! We are all about to embark on our individual journeys and hope that you continue to support your boys… I wish you all an amazing Christmas and New Year with all your loved ones! Eat, drink and be Merry!
Here's to an amazing 2014. Love you all!
Marv x
Finally, your boy in yellow JB:
Merry Christmas JLSters!!!
And what a Christmas it will turn out to be! The start of four, no doubt incredible, individual journeys and a time to reflect and look back on all the mind blowing achievements of JLS! You guys are responsible for many of those achievements and it is impossible to thank you for everything you have all done over the years. Thank you for sharing this journey with us. We love you all.
May God bless you and here's to 2014 and beyond!!
JB x
Here at TwitCelebGossip, we wish each and every one of you a very Merry Christmas and New Year and we're all in the same emotional state over the boys, remember to smile because it happened!
Here is the link for the live stream where you can watch the boys perform for the last time on stage together:  https://twitcelebgossip.com/watch-live-jls-final-greatest-hits-tour-show/