Exciting times Doctor Who fans- the first picture of Peter Capaldi filming Doctor Who series 8 has been unveiled!
The picture shows the 55 year old Scottish actor with co-star Jenna Coleman still wearing previous doctor Matt Smith's outfit! Will the new doctor change costumes? We'll just have to wait and see!
Capaldi told Digital Spy: "New job, first day, slightly nervous, just like the Doctor, I'm emerging from the TARDIS into a whole other world.
Head writer and executive producer Steven Moffat also said: "First the eyebrows! Then, at Christmas, the face! Coming soon, the whole Doctor. In the Cardiff studios, the Capaldi era begins."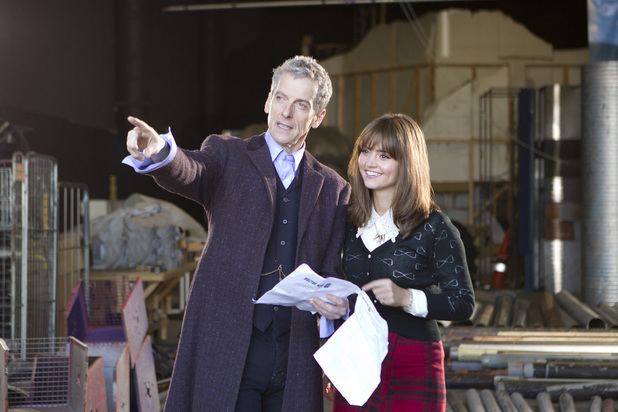 Both Steven Moffat and Brian Minchin  are both Executive Producers of Doctor Who. Steven Moffat has written the first episode and Brian Minchin the second, with Ben Wheatley directing both.
Nikki Wilson (who has worked on The Sarah Jane Adventures) and Peter Bennett also produce Doctor Who.
Filming will take place until August 2014, but it's not yet known when the eighth series of the hit TV Sci-fi drama will be aired.
Are you REALLY excited for the next series of Doctor Who?
Let us know by tweeting us or dropping us a comment below! Don't forget to share!