With the hugely successful British pop/rock band, Lawson, coming to Telford this August, The Scene's Sarah Williams caught up with the lead guitarist Joel Peat, to get the low down on the band and their plans for T-Live…
Q: So Joel, thanks for chatting with us today. The group are from different parts of the country, how did you all get together?
A: We all got together I think like five or six years ago, we have all been kind of friends for a while. Me and Ryan are kind of nearby, I'm from Mansfield and Ryan's from Chesterfield so not that far away. Myself and Ryan used to play in bands together then we both moved to London together, started doing gigs and we went to University there to play music basically. Ryan met Andy at an audition that he was doing, they sort of took each other's numbers and then Adam the drummer got in touch with Andy who had seen stuff that he had put on 'My Space' and said if you ever wanted to make a band I would love to play drums for you. So then eventually Andy decided he wanted to call everyone in, we all just turned up at a rehearsal and started playing music and sounded shocking and then carried on until we sounded half decent ha. So here we are years down the line, it's a pretty good story really as we have all been friends for a while as opposed to a lot of bands that are just put together these days. I can't really imagine doing that because I would want to know that they are my kind of people that I was with, if you know what I mean.
Q: How did you get your first break into the music industry?
A: We used to put loads of videos on YouTube like covers and every time someone bought out a new song like when Bruno Mars bought out 'Grenade' we did a cover of that and posted it on YouTube. Eventually people saw that and asked us if we wanted to do a tour, so we did this pretty big tour where we played acoustic which was like petrifying, but it kind of puts the pressure on cause it made sure we were singing harmonies well and we were tight because you can't hide behind anything when it's just acoustics. So with that someone saw us whilst we were doing those gigs and just said we would love to sign you and go forward with the band. So we were quite lucky really just in the right place at the right time and we had spent a lot of time doing gigs in like pubs and clubs all over London, everywhere to be honest.
Q: How did you come by the name Lawson for the band?
A: We were called a few different names when we started out and nothing really felt like it stuck, we sat down and said we need something that actually means something not just like a throw away name 'the something' we didn't want that. We talked about big things that happened in our lives and Andy said well I had this brain tumour, we were like suppose that's a pretty big story and he was saying that the doctor that kind of got him through the whole process and sort of saved his life was a guy called Dr Lawson and he was the surgeon, there was another doctor called Dr Lesser but we couldn't be called Lesser so we went for Lawson. Lesser would have had connotations about the band so we couldn't do that.
Sarah: Wow that is a great story.
Q: So is it true you write all your own music and play all your own instruments?
A: We do yeah that still happens, we have kind of always done that and we pride ourselves on being a proper band cause there's a lot of bands out there these days that don't really play instruments, I think like X Factor kind of stops people from wanting to do that which is a shame, but yeah we play all our own music and write it all. Andy will write the bones of the songs, he'll write the melodies and the chords and he brings it to us and we all put our parts over it and sort of create the song.
Q: Your debut single was 'When She Was Mine' what or who influenced the lyrics?
A: The name came before the song with that one really, it was sort of a bit inspired by, and this is going to sound a bit wet, but you know the song 'When She Loved Me' from Toy story, it was sort of inspired by that. He came up with the name first and wrote the song around the name, I think the whole first album is quite inspired by a break up story around one girl that Andy was really in love with and it didn't really work out. There is other songs on there but that was mainly the inspiration for the first album so 'When She Was Mine' is kind of typical of that.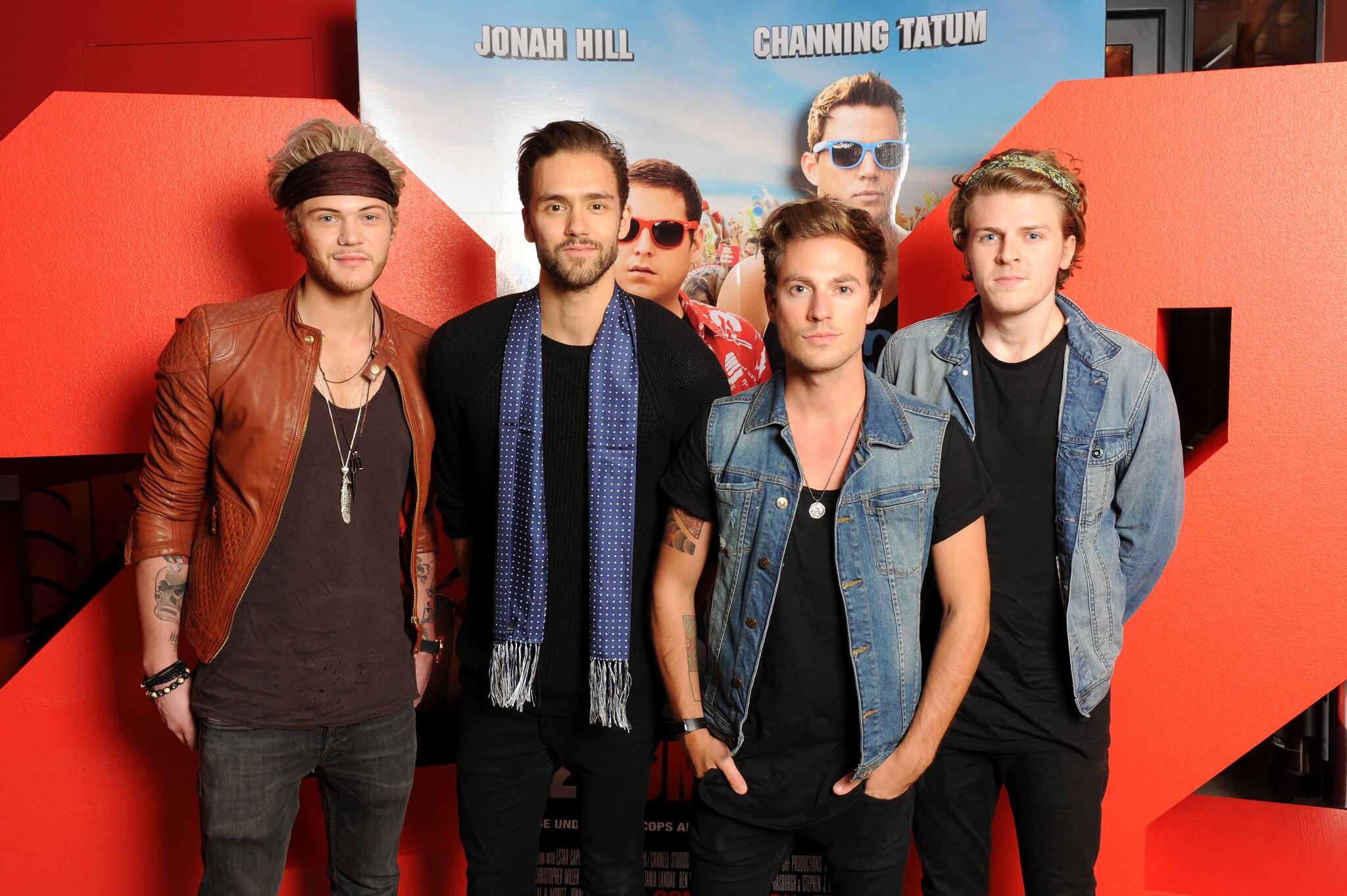 Q: Your debut album Chapman Square was released October 2012 and then Chapman Square 2 released almost a year to the date of the first album as a special edition, when can we expect another album from you?
A: Well we are going into the studio hopefully the end of May to get it recorded, I suppose after that process is all done, probably the back end of the summer really, but we can't wait, it's a really awkward position in the middle when you're sort of sat round, you have nothing to go out and gig for, because the album has already been out twice, so we really excited to get out and start playing new music. I think once we've sort of finished writing everything we will be playing some new songs at some gigs soon. In fact maybe we'll be playing a few new songs at Telford, yeah we will be doing, the 30th August by then I think we will be done.
Q:  Where did the name Chapman Square come from for the album?
A:  Chapman Square, I was there the other day actually, it's the place where Andy used to live, when we first started out. We all used to drive round there, and we'd sit and write songs, we'd do the videos for the songs or do cover versions and stuff there, it was kind of like the Lawson hub, it was where we learnt to jam together and write songs. The relationship in the first album is about Andy and the girl that lived there so it's got a lot of meaning to all of us.
Q:  Who is the most famous person you have worked with as a band?
A: We haven't really worked with anybody, I think Andy's written with Gary Barlow which was pretty big, and I think it's more who we would like to work with. We'd love to work with a female artist, we did a tour with Jessie J recently, I think Jessie's got the best voice of our generation, I don't think anyone can really match the way she sings, so that would be a real honour to do a song with her and we are really into country music, like American country music, someone like Carrie Underwood, she's got an incredible voice, someone like that maybe or Taylor Swift as well, she's awesome.
Q: For your single 'Juliet' Kelly Brook starred in the video, what was she like to work with, and why did you chose her?
A: Ha, yeah, it was a great day, it was a fantastic day, I think the young lad inside me was going mad, she's incredible, and she's lovely. We sort of sat round, and said we need this beautiful seductive sort of woman, the kind of Jessica rabbit style, someone just like Kelly Brook really. We kept saying this, just someone like Kelly Brook, she's got the seductive eyes kind of thing and our manager went well why don't we just ask Kelly and we laughed and said 'whatever as if she'd do that' and he said 'well we will see if she wants to do it' and it turned out she was actually a fan of the band and said she would love to do it. So she came down and was dead cool and she was perfect for what we wanted in the video, it was amazing, she's lovely.
Q: You are touring in the UK this year and playing at many festivals including our local T-Live Festival in Telford on August 30th are you looking forward to playing here?
A: We are absolutely over the moon about it, we can't wait, and there are some great acts in the line-up, I saw Union J boys last night, we are really good mates with them, they are really good lads, so can't wait to do that. Tich as well, we know Tich. It's always great at these gigs it's like a little reunion, everyone seeing each other, everyone kind of hangs out and we can't wait. We played for the Birmingham crowd last night, to say that we are not gigging that much at the minute, it's nice to come back to a crowd that sings along with your lyrics, I think Birmingham is one of the loudest singing crowds ever.
Q: You say you have worked with Union J and Tich before have you at different concerts and venues?
A: We've done gigs and stuff with them before, in fact Union J were saying last night that the Midlands crowd you just can't beat it, especially with me being from the Midlands myself, kind of a bit proud, got a soft spot.
Q:  Do you prefer outdoor or indoor performances?
A: I don't know it's very different. Like an outdoor gig you can have people going on forever whereas indoor gigs you've got that sort of intimacy They both have the benefits but there's nothing better than being in the sun, loads of people having a great day, you know we have to take the sun when we can get it here in the UK so everyone really goes off when they are outside listening to music. Yeah I think I maybe prefer outdoor gigs.
Q:  What concert / festival are you most looking forward to this year?
A: The festivals are always the one, I think every band looks forward to festivals. It's just the vibe when you are there, it's just incredible. We are doing Isle of Wight Festival this year, we did that last year and it was just an amazing day. We are on the same day as Kings of Leon which are like my favourite band ever, so we are really excited about that, it's going to be awesome. I think that one to honest. Festivals in general are just amazing.
Q:  Do you prefer playing to a large crowd or a smaller intimate crowd?
A: Tough question, it depends what it is and what we are doing. If we were playing a load of new songs for the first time you would kind of want it to be more intimate sort of venue with all like die-hard fans coming down and listening to it. When you get more into it, it is amazing playing to thousands and thousands of people, especially when you're in like a tent at festivals and there just people as far as you can see, it just an amazing sea of people.
Q:  Do you get nervous when performing on stage?
A: I am pretty good with it now, I really struggled when we started out, my hands used to get all cold. You can't play guitar when your hands are freezing but I have kind of got over that now and we all kind of egg each other on, everyone gets psyched up and try and do the best show you can, I think the nerves have kind of gone away a bit. Having a few beers helps as well.
Q:  Has anything ever gone wrong on a live performance?
A: All kinds of stuff, I have smashed my guitar and Andy's guitar and knocked it widely out of tune. We've had amps blow up and all kinds of things. As I say we have been gigging for six years so you have to expect some glitches but nothing too major, I know Ryan fell over at Wembley Stadium that was pretty bad. We have been quite lucky really though.
Q:  Do you go to any concerts / festivals yourself when you are not performing?
A: Yeah, I have been going to Leeds Festival for like years and years, growing up me and my mates always went to festivals like that and I am always seeing gigs. I went to Rock City in Nottingham, a pretty famous venue in Nottingham.
Since I have been home I have been to gigs every week to see my favourite bands. I love a gig, I love music so you have to keep doing it. It an inspiration too, you think next time we are on stage, we'll do that.
Q:  With regards to your performances on stage, is there anyone who inspires you at all?
A: Definitely, I think there's a lot of surprises in terms of who we listen to before we go on. It was a bit of an odd situation, yesterday before we went on stage we were listening to Toto singing Rosanna, you don't really expect twenty three year old lads to be sat round listening to Toto, but we actually were, it's a true story ha. We have such an eclectic music taste and everything inspires you to go on and put on a good show. There's a lot of things ,we all grew up listening to bands like The Eagles, The Beatles and people like that, a lot of John Mayer, Kings of Leon and People like that. They all inspire us to make the music we make.
Q:  Have you made any good mates in the music industry that you keep in touch with on a regular basis?
A: There's quite a few people really, The Wanted have always been friends of ours, they are good lads, it's a shame that they are splitting up and whatever, they are all good mates and I am sure they always will be. Union J are good lads, people like that. Like I was saying with these gigs you sort of see the same people and same faces and everyone gets on really well, there's no sort of rivalry or anything, everyone just has a good day.
Q: What do you do to relax when you're not working?
A: To be honest I just play my guitar. Like with us being off at the minute, you kind of get used to playing the same stuff every night at gigs – Lawson songs, so it's been nice to come back and kind of push myself out of my comfort zone a bit and play some new stuff. Just been practising to be honest getting ready for when we next go out.
OK, so some quick fire questions for you Joel…
Q. Favourite food?
A. Pizza
Q. Favourite Musician/Artist?
A. John Mayer
Q. Favourite film?
A. Die Hard
Q. Favourite Car?
A. Audi R8
Q. Favourite female Artist?
A. Carrie Underwood
Q. Favourite male Artist?
A. John Mayer
Q. Favourite holiday destination?
A. Disney World Florida
Q. Favourite half of the day AM or PM?
A. P.M
Q. Favourite Tipple?
A. Whiskey
Q. Favourite animal?
A. Dog
Q. Favourite place in the UK?
A. Mansfield
Joel, thank you so much for your time and I think I speak for everyone in Telford when I say we can't wait to see your performance in August!